I am so blessed to have a dear friend in Kim of Marmee's Pantry and she has been a huge encouragement and a source of wisdom so when I needed a help, I once again asked her!  She is a devout Christian, wise Home school Advocate and an organic homemaker with an exceptional wealth of knowledge in frugal homemaking. I believe she is an expert!
When we first met, I was so intimated by her wisdom! I am being so honest and real 🙂 She was attending college, homeschooling with excellence, to amazing young women and always spoke with such grace yet real. No pretense, no 'churchy' behavior.. not judgement but just real faith being lived out.
When we decided after much prayer to return to homeschooling, she stood up and encouraged me and sent me in the right direction.I was so nervous and apprehensive of schooling C-man as he is special needs but it has been the most amazing experience! Not without struggles but wonderful all 'n all!  She has been a friend near and dear to my heart.. and a hands on example of what a true Proverbs 31 woman is.. some people will say that online friendships are not real and they are surely different then face to face friendships BUT they are just as real and I knew I could count on her to be Jesus with skin on for me..
So,when I needed help…
It was Kim who first taught me how to make my own soap so … I absolutely LOVE making it! But, my machine is finicky and would easily clog up :/ She posted this recipe which I made today.. here's the link to her blog… Homemade Liquid Laundry Soap.
It is rather easy 🙂 Gather your ingredients.. Arm and Hammer Laundry washing Soap.. not baking soda! You can find it online at http://www.soapsgonebuy.com/ Â I have used them many times. I highly recommend them. You also will use Dr Bonner's Castile Soap..I like the lavender. I find that as well as the essential oils in our local health food store. You do not use a lot and it lasts forever. Safe for the environment and safe on our skin. I have to be careful for we all have very sensitive skin and these are so gentle 🙂 And at last, you will need Borax 2o mule team soap. Easy to find at most stores, even walmart 🙂 Please visit her site for instructions 🙂 I do not want to take any credit for this blessing!
Please take time to visit her lovely blog.. Click on the Picture Below!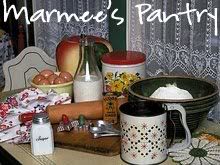 Related posts: